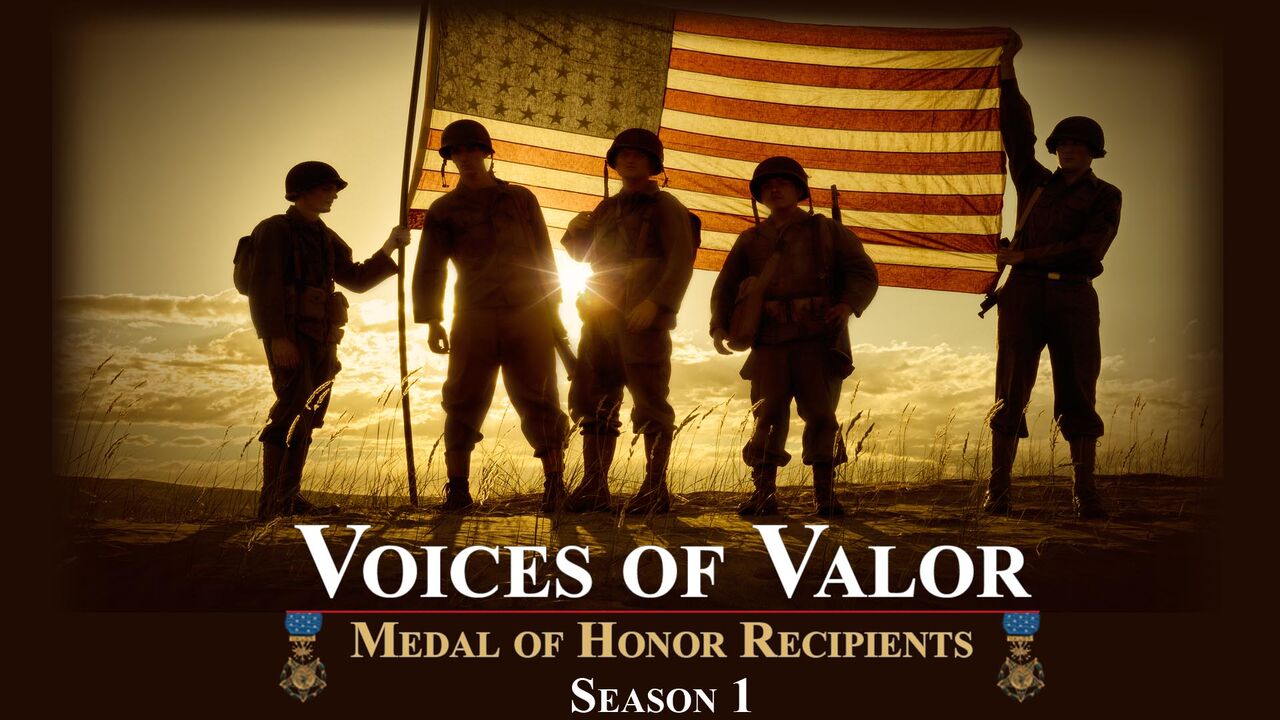 Voices of Valor - Medal of Honor Recipients
Riveting oral histories of more than 100 recipients of the Medal of Honor, introduced and collected in one place for the very first time. (28 x 18-40)
SEASON 1:
EPISODES:
1. Shizuya Hayashi, Van Barfoot, Walter Ehlers
2. Robert Maxwell, Lucian Adams, Charles Coolidge
3. Francis Currey, Robert Nett, Charles Murray
4. Nicholas Oresko, James Hendrix, John Hawk
5. Rudolph Davila, William Crawford, Russel Dunham
6. James Burt, Melvin Biddle, Michael Colalillo
7. Desmond Doss, Edward Dahlgren, Vernon Baker
8. Richard Sorenson, Arthur Jackson, Mitchell Paige
9. Nathan Gordon, Richard McCool, Robert Bush
10. James Swett, Jack Lucas, Jefferson Deblanc
11. Henry Erwin, Hershel Williams, George Wahlen, John Finn
SEASON 3:
Season 3 centers around MOH winners of the Vietnam War with veterans of the Army, Navy, Marines, and Air Force,
EPISODES:
1. Harvey Barnum, Robert Ingram, Bernard Fisher
2. Richard Pittman, John McGinty, Robert Modrzejewski
3. Howard Lee, George Bud Day, Leo Thorsness
4. James Livingston, Joe Jackson, William McGonagle
5. Donald Ballard, James Fleming, Wesley Fox
6. Joseph
7. Allan Kellogg Jr, Thomas Norris, James Stockdale, Jay Vargas, Harold Fritz
SEASON 4:
Season 4 continues with stories of MOH winners from the Vietnam War.
EPISODES:
1. Roger Donlon, Bruce Crandall, Alfred Rascon
2. Ronald Ray, John Baker Jr., Robert Foley
3. Charles Hagemeister, David McNerney, Ken Stumpf
4. Leonard Keller, James Taylor, Allen Lynch
5. Frederick Ferguson, Patrick Brady, Clarence Sasser
6. Gary Wetzel, Drew Dix, Jack Jacbos
7. Paul Bucha, Robert Patterson, Nicky Bacon
8. Sammy Davis, Robert Howard, George Lang
9. Gordon Roberts, Michael Novosel, John Baca
10. Gary Beikirch, Gary Littrell, Brian Thacker, Michael Fitzmaurice, Jon Cavaiani